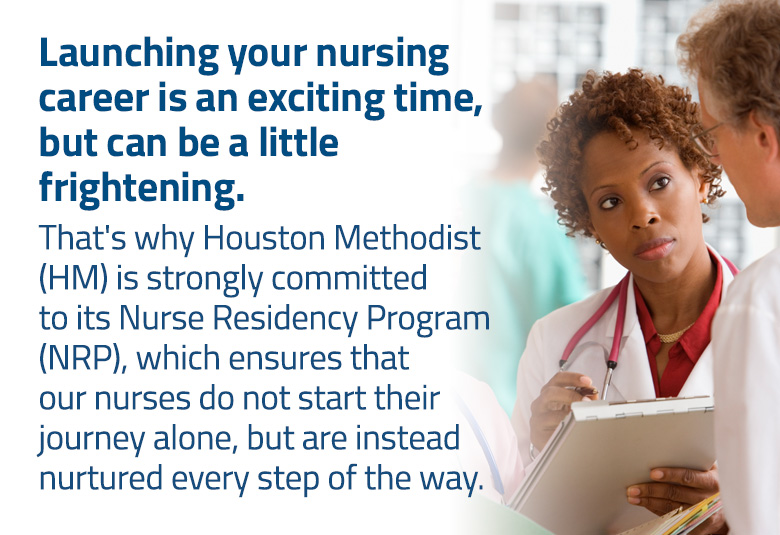 Houston Methodist's Nurse Residency Program has been designed to take new baccalaureate prepared nurse graduates beyond their formal education. A collaborative venture with the UHC/AACN Nurse Residency Program™, the NRP offers support to baccalaureate prepared nurses by cultivating their leadership abilities and professional development.
Houston Methodist's CCNE accredited Nurse Residency Program offers practical solutions to dilemmas that nurses often face and has proven to be very effective in fostering confidence and guiding new nurse graduates through their transition to professional practice. In addition the new nurse develops confidence and clinical competency throughout the residency program.
1. Key Features of the Nurse Residency Program
A 12-15 month program to facilitate transition into practice.

Curriculum follows UHC/AACN program, focusing on leadership, professional role, critical thinking and patient outcomes

A series of thoughtfully developed classes that will enhance skills in critical thinking, assessment, leadership and clinical decision making.

Required participation in monthly sessions
GOALS:
Transition from entry-level, advanced beginner nurse to clinical leader at the bedside

Develop effective decision making skills related to clinical judgment and performance

Incorporate research-based evidence into practice

Professional growth and development

Develop, implement and disseminate an evidence-based project
2. Application Requirements
Successful completion of an accredited BSN program

Eligible for RN licensure in Texas and GN permit

Recommended Nursing GPA of 3.2 or greater (if applicable)

Letters of recommendation

Houston Methodist San Jacinto Hospital ONLY: For Associate degree in Nursing (ADN) graduates, qualification and continued employment are contingent upon active pursuit of a Bachelor of Science in Nursing (BSN) degree and acquiring the BSN degree within 3 years.
How to Apply:
Houston Methodist Hospital (Medical Center):
Click the link below:
https://gradnurses.
houstonmethodistcareers.org/
All Other Houston Methodist Locations:
Step 1: Click the link of the Hospital of interest.
Step 2: In the seach field, type "graduate nurse" then scroll down to view and apply.
Houston Methodist West Hospital
Houston Methodist Sugar Land Hospital
Houston Methodist Willowbrook Hospital
Houston Methodist San Jacinto Hospital
Houston Methodist St. John Hospital
3. Application Deadlines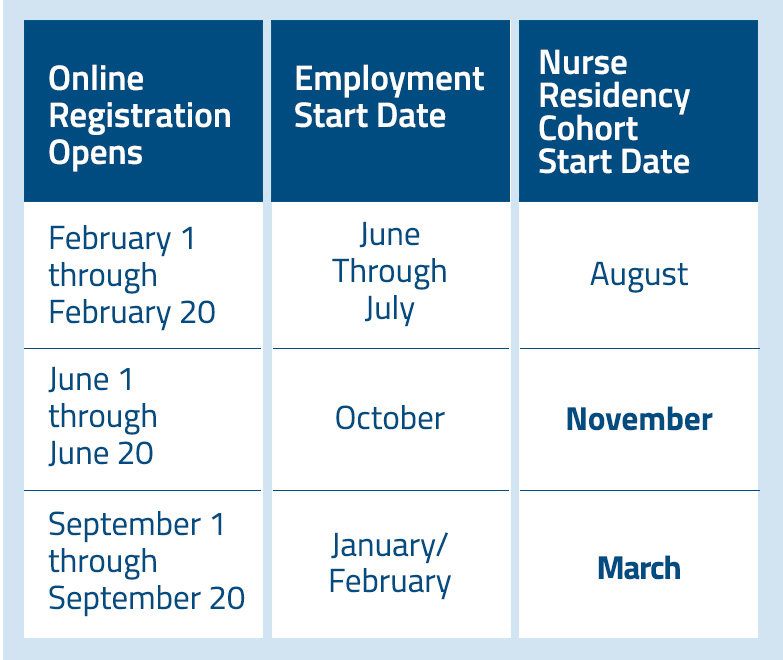 For More Information
Houston Methodist Hospital
Nurse Residency Program Lead Coordinator
Jo-Anne Gaudet, MSN, RN, CCRN-K
6565 Fannin Street
MGJ 11-002
Houston, TX 77030
713-441-9523
jagaudet@houstonmethodist.org
Houston Methodist Sugar Land Hospital
Nurse Residency Program Coordinator:
Gilbert Barrera Jr., MSN, RN
16655 Southwest Freeway M1827
Sugar Land, Texas 77479
281-274-7803
gbarrera@houstonmethodist.org
Houston Methodist West Hospital
Human Resources Department
at 832-522-0330
Houston Methodist Willowbrook Hospital
Nurse Residency Program Coordinator:
Carol LaMonica-Way, MSN, RNC-OB
18220 Tomball Parkway
Houston, Texas 77070
office: 281-737-1106
BB: 281-507-1164
Clamonica-way@houstonmethodist.org
Houston Methodist San Jacinto Hospital
Joey Baham, Supervisor, Recruitment
Human Resources Department
2610 Alexander Drive, Suite 203
Baytown, Texas 77520
office: 281-420-6296
main office: 281-420-6287
Houston Methodist St. John Hospital
Nurse Residency Program Coordinator
Pamela D. Anstead MSN RN
2035 Space Park Drive Suite 150
Nassau Bay, TX 77058
office: 281-523-2142
Pdanstead@houstonmethodist.org